Latest News ...
March 1, 2014: Convention is only 5 months away!
The very first NDGA Annual Convention was held at the Mariott in Washington, DC, on July 4, 5 and 6, 1975. Now, 40 years later, we are getting ready to celebrate our 40th convention. This year's Annual Convention will be July 12-13 in Wellington Kansas. The theme "Paint The Town Red" is based on the color ruby being used for 40th anniversaries. Expect to be dazzled by an assortment of displays. Check out our convention page for the latest information.
February 1, 2014: Live Auction update
The 3rd Annual Live Auction is scheduled for July 12 after the banquet with the proceeds going to the Museum Support Fund, which benefits the NDGA National Glass Museum in Wellington KS. Donations are now being accepted by contacting Danny Cornelius at 740-498-7733 or by email. Donors have the choice of donating 25% to 100% of the proceeds to the organization.

The National Depression Glass Association, Inc. is recognized by the Internal Revenue Service as a 501(C)(3) non profit historical and education organization. Your donation may be tax deductible. Please consult your tax advisor to determine your indivudal situation.
January 1, 2014: Holiday time at the Museum
Your museum was a busy place during November and December. Take a couple of minutes to view these pictures and enjoy the colors of the season. Many thanks to everyone who helped make the museum look so festive. Soon, it will be changed as we begin to "paint the town red" in honor of our 40th celebration.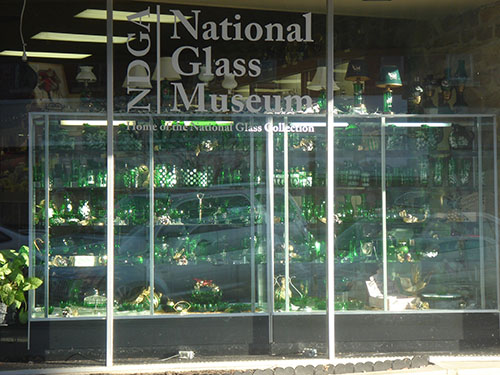 December 4, 2013: Design a table center piece
We are looking for between 10-15 folks who would like to sign up to design a center peice for a table at the Saturday night banquet to be held during the 2014 convention.

The rules will be: use glass and keep the "Paint the Town Red" theme in mind. Each person holding a dinner ticket will be able to vote for their personal favorite. The judges will be responsible for counting the votes with the winner being announced and gift certificates for 1st, 2nd, and 3rd place being awarded during dinner.

Put your thinking caps on and let the creative juices start to flow. Please contact Pam Meyer at meyerantiques@juno.com if you have questions or to sign up for a table!
November 19, 2013: By-Laws Voting Results
Chair Donavon Schmidt and his committee; Melissa Leslie, Carol McEwen, Mary Lou Moreland and Deloris Schmidt counted the ballots on October 17th 2013 and reported that 232 ballots were returned for the By-Laws revision. Results were two hundred twenty seven (227) voted yes; two (2) voted no; three (3) were returned blank.

As results of the voting the new By-Laws will take effect January 1st 2014.

I would like to thank Donavon and his committee for their work on this project.

Danny Cornelius
President NDGA

November 1, 2013: We're on TV!
We've all seen the ads to support Public Broadcasting. Now, here's a really good reason.

During the July 2013 Convention, television station KTWU located in Topeka Kansas, spent some time videotaping at the Convention and Museum. The result was broadcast as the October 10, 2013 program of Sunflower Journeys. It is a 27 minute program with two other stories. Our story begins 10 minutes into the program and lasts for 8 minutes. Make sure you are using supported software to view the program.

Many thanks to Pam Meyer and others for making this happen. Let us know what you thought of the program.
October 1, 2013: One year later
We did it.
It was only a year ago a ribbon cutting ceremony was held to celebrate the Grand Opening of the NDGA National Glass Museum located at 117 S Washington Ave. in Wellington KS.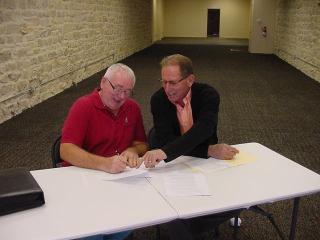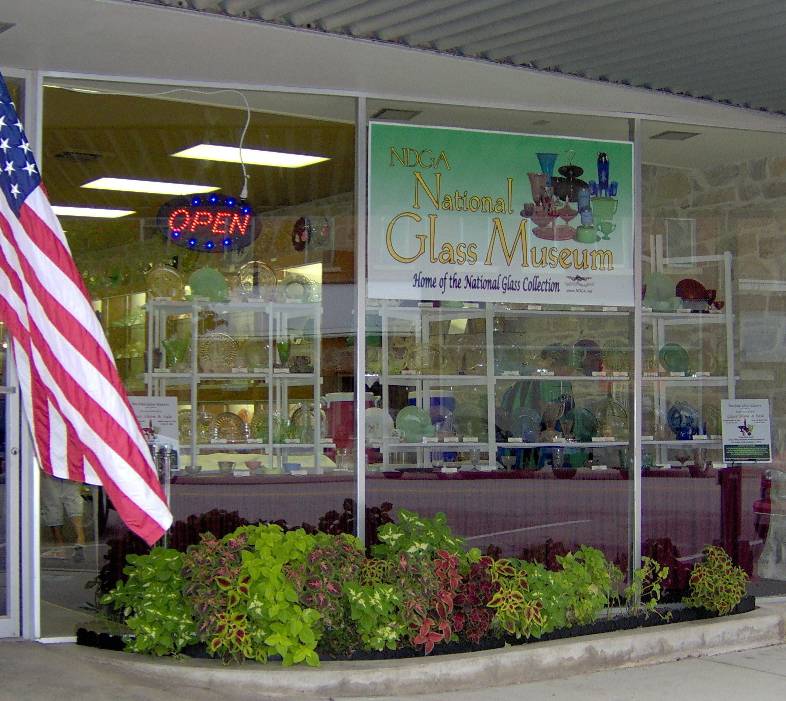 This past year has seen the Museum grow from an empty building to one that houses a collection of glass from the 1800's to the 1970's, representing a large number of the companies that were in existence during those times. It also has a working reference library for the public to use in their research of glassware. The museum is staffed by volunteers, who are always willing to help answer questions.
The museum will help in serving the two main goals of the organization, education and preservation of all American made glassware with an emphasis on the Depression Era.
NDGA is a 501(c)(3) organization with the museum opened to the public at no charge. The museum is supported by donations and proceeds from the gift shop where you may purchase glass items, along with t-shirts, tote bags and post cards. A donation jar is also available to anyone wishing to help support the museum.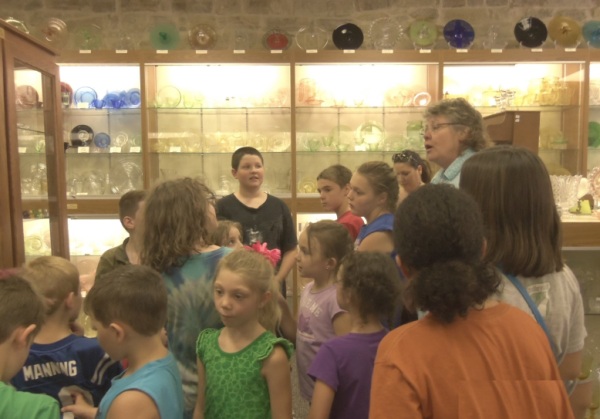 The Museum is opened Thursday, Friday and Saturday between the hours of 11:00 A.M. to 4:00 P.M., with additional hours available by appointment. Please call 620-326-6400 or 316-524-1553 for those arrangements.

---
During the 2013 NDGA Convention, Leegh Wyse (NDGA Historian) worked with groups of students to help them appreciate the history of glass. She developed materials and gave several "Children's tour" of the museum during convention.
The children then went on to making rock candy, which just like glass, needs the correct ingredients fired at the correct temperature to create a product. Yuum!
September 1, 2013: Involving the next generation....
One of the highlights of 2013 NDGA Convention was the participation by guest author Barbara Mauzy. She presented a session titled "Passing on the Passion" on Saturday and repeated on Sunday. Barbara also wrote a book "Child of the Great Depression" (ISBN #0985967870).
Are you a depression glass collector? Have you had trouble getting your children or grandchildren to appreciate depression glass and its significance in American history. Well here is the perfect resource for the young reader. Written and illustrated by well known glass author Barbara Mauzy, this book will help young new collectors to appreciate the significance of depression glass; what was the Great Depression, why did it happen, how does the glassware relate to the times, etc... That and much more is included in this great new book designed specifically for the young collector. Your purchase of this book helps to support The National Depression Glass Association and The National Glass Museum.
Remember, the holidays are coming. Contact Pam Meyer to order your copy, and perhaps a second one as a gift.
August 25, 2013: By-Laws Update
The NDGA By-Laws require that they be reviewed every 2 years to determine if they are currently appropriate or if modifications are needed. A review was recently completed and members will be asked soon to cast their vote of approval. The current By-Laws and proposed By-Laws are posted on our
Documents Page
to facilitate your review. Please take the time and be prepared to cast your vote.
July 15, 2013: NDGA Convention was a Success
The 2013 NDGA Convention in Wellington, Kansas, is officially over. Many thanks go to Convention Chair Pam Meyer and a host of volunteers. Great displays, excellent Seminars, wonderful glass for sale from 32 national dealers, a super Banquet with live auction, an outstanding silent auction, and even a float in the Wheat Festival Parade. I'd call that a success, wouldn't you? Plan to attend next year's Convention in Wellington, Kansas, and you'll get to visit the NDGA National Glass Museum in person. In the meanwhile, you can get a more detailed report and lots of photos on our Convention 2013 Summary page.