Collecting - A Special Memory
by Linda D. Carannante
My obsession with glass began at the age of 16 with a pink Cherry Blossom Cup & Saucer that I purchased for $ .25! Over the years as I began a family and it grew, so did my collection! My husband, who I met when I was 17 jumped right in too! His philosophy has always been if you like it, buy it! Ladies you can't find one better than that.
One of my early goals was to have at least one piece from every pattern which I quickly began. As my family grew I decided I wanted to bring them into the appreciation of this glass I loved. I began putting a complete set together for each of them and picked my favorite patterns so that I could share my love with them. Each special occasion, family dinner or birthday the collections came out and we used them!
In the beginning the children didn't understand, all they knew was the pink dishes with the cherries on them belonged to the oldest, the green ones that looked the same were for my daughter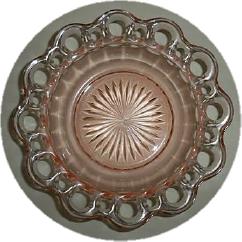 and the baby got the pink dishes with the holes in the edges! For years that is what my prized pieces were referred to! For those that can't guess the patterns from their expert naming; in order we have Pink & Green Cherry Blossom and Pink Open Lace (shown at right), also called Lace Edge or Old Colony! As they got older, the name changed just to "the dishes we can't put in the dishwasher!" But whenever we walked through an antique store, or went to a flea market they would run around and look for a piece then run back to find out if we needed that. The game they would start to play was run back and announces "I found a piece for my sister's pattern but I'm not going to tell where it is!" Then she would beg and plead; when the tears were about to begin he'd tell her. Of course she did her share of getting even with him. The younger one just ran after them both. Every Christmas when they found a piece with their father they could hardly sit still until I opened the box. Most years my daughter couldn't hold it in and would say Papa didn't know if you needed this or not but he said we can always use an extra! (Husband is from Italy so kids always call him Papa just to be clear it isn't Grandpa!)
When we set the table we would alternate colors, green dinner plate, pink salad plate, green sherbet plate and finally pink sherbet dish on top. Then the next place setting would be the reverse. This not only looked beautiful, we used everyone's dishes and it also kept the kids busy for hours trying to get the setting correct while I did the cooking with no one under foot! (See I had ulterior motives!) Also I understand I'm ahead of my time as Oprah now says it's better to set a table with different place settings.
Every special dinner every guest would know just who's dish they were using and were politely told how delicate these dishes could be so be careful! (At this point I would slide under the table in embarrassment) As they grew they began to realize the value in those colored dishes and a new joke era began. One of the kids would yell at the other not to scratch their plate, don't cut your meat like that because that plate belongs to me; oh if it's your plate then I can drop it; put ice in that pitcher because it's his and so on. I got them good one year as we were having a large gathering, making sure everything was absolutely perfect with the glass, large elegant candlesticks, silver polished and cleaning for weeks. The kids were going on how strangers would scratch their dishes and ruin them. When dinner was announced everyone came to the table going on about how beautiful it was, "Oh that's Depression Glass I didn't know there was so much still around", then sat down and politely looked at each other. My children however started rolling off their chairs as I had set the table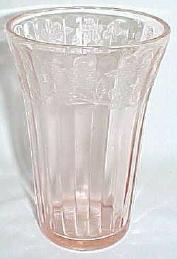 with all my beautiful glass and plastic utensils! After the Shrimp I let them use real utensils but the memory is laughed about every gathering we have!
My personal favorite was one year for my anniversary my husband bought all 16 of the tall Cherry Blossom tumblers (photo at left), which are quite expensive. The new rule was when we do cheers no banging the glasses as hard as they usually did, which was actually trying to see if they could shatter them. Well they secretly made a pact and when we did cheers they all put their hands between the glasses so this has become our new way to toast!
I'm proud to say, together as a family, we now have a service for 8 in both pink and green Cherry Blossom, as well as the Open Lace. I still need to fill in a few of the more expensive, hard to find pieces, but for the most part it's all there. In 2008 I was blessed to fall into the only pink Cherry Blossom Covered Casserole that exists! A green one was found a few years back but this is the first in pink! My kids all rushed to see it and we cleared a special shelf just for it. Not only for its rarity but so that nothing could fall on it! I have it lighted and the kids are already joking they are going to hook up music so when I open the door it plays the "Alleluia" Chorus! The two with the other collections are complaining that throws off the equality, he's getting more! The jokes continue!
I hear so many people tell me their children want no part of their collections. When asked do they use them the common answer is, NO! It's too expensive, I can't put them in the dishwasher, they may get scratched and so on. Maybe if there was more of the above we'd have less of our children not being interested in them? If the reason you began your collection was a special memory of someone you cherished don't you want your children to have that same special memory? I would wash a 1000 more hours of dishes, if I had to, just to keep those memories.
Webmaster's NOTE: Linda has granted permission for the NDGA to use her article. She has shops in Adamstown, PA, Shupp's Grove, PA and online at: www.TLCAntiques.net.