MacBeth Evans American Sweetheart
by Kathy Eickholt
MacBeth Evans manufactured American Sweetheart from 1930 to 1936. One thing you will notice right away with American Sweetheart that is true for most glass from MacBeth Evans, is that it is fairly thin and looks delicate. MacBeth Evans also made Dogwood and Petalware, which are well-known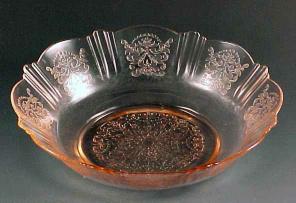 depression patterns, and they made a lot of white glass with colored designs or pressed motifs like American Sweetheart and later Chinex or Cremax. Eventually Corning Glass bought the company, and of course Corning eventually produced Corelle dinnerware.
You will find a lot of pink clear American Sweetheart pieces and it looks like MacBeth Evans made every piece in pink. Their pink is a lovely soft pink with no orange tones, really a true baby pink. Pink depression glass remains among the most popular color and of course, with the beauty of the design, pink American Sweetheart is probably the most pursued color and one of the most enduring favorites among collectors.
MacBeth Evans made a beautiful thin, translucent white glass they called Monax and used it for American Sweetheart to great effect. Initially this Monax glass was almost opalescent, so pieces will look blue in places and have a shimmering effect on the edges. This is a white white, not cream or an off white. You can find a full set in Monax. My books show Monax with various trims around the edges and we have had pieces in stock that had traces of gold on the rims. Peg bottom sherbets that fit into small metal cups were made in crystal and there were a few pieces made in cobalt blue and red, but these are far less common. If you like the pattern and want a set that you can use then collecting pink or Monax would be a wise choice. There are fewer pieces in the trimmed Monax but sufficient for table use.
The design on American Sweetheart has a central burst of swags and scrolls and the sides on a cup and the rims on plates have ovals filled with swags and scrolls. The design appears to be flowers but if you look closely you can see that there are no flowers, it is more like intricate paisleys and scrolls and curlicue shapes. Plates are scalloped and have a wide rim which gives plenty of room to show off the pattern. The scallops go well with the design. You may see saucers and plates without the center design, so you may want to check this when buying online.
American Sweetheart is a moderately expensive depression pattern. As usual, tumblers, pitchers and soup bowls are among the pricey pieces. Tumblers only came in pink and range from 60 to $150 today and soups range from $60 to $160. Pricing between Monax and pink is fairly close, with the pink being slightly more expensive on some pieces and Monax higher on others. Particularly desirable pieces are the Monax sugar lid and lamp shade, pink pitcher, and both colors of salt and pepper shakers.
We've had very few damage problems with American Sweetheart. The plates and bowls do not have sharply defined ridges where the rims meet the center, which is such a problem spot in other glass. Do be careful of the protruding points between the larger scallops on most pieces and of course check for rough spots on the edge of the rim and along the top and bottom of the rim. If you like the trimmed Monax glass then check the trim condition and also its color.
This glass doesn't seem to scratch as badly as some; at least we have not come across pieces with a lot of wear. I'm not sure whether people used this for their good dishes since it looks so delicate and pretty or we have just been lucky. It is always worth asking about rough spots and wear when you buy without seeing and holding the glass. One time we went to a January auction outdoors in Michigan and bought a beautiful pink soup bowl. We inspected it many times and found no damage, but I detected a tiny rough spot when listing it. That's a good lesson, that if someone else touches your glass after you, that you want to reconfirm condition. The other lesson is not to try and feel rough spots when your hands are frozen!
Webmaster's NOTE: The NDGA wishes to thank the author for permission to use this article. Kathy is a dealer from Midland, Michigan. Her web site is Cat Lady's Glass.