Jeanette's "Doric and Pansy" and "Doric"
by Kathy Eickholt
Most of us are familiar with Jeannette's big depression glass patterns -- Cherry Blossom, Iris, Windsor, and Foral -- but Jeannette made several other depression patterns that are less well-known. These include Doric and Pansy, Doric, Homespun and Swirl. Now when Cherry Blossom and Floral pieces are priced beyond many people and are difficult to find in good condition, it's time to look at these other pretty patterns and see how you can enjoy collecting these.
Collecting depression glass gives us an intimate connection to the past. We see and touch and use items that others before us made and used and touched. Plus depression glass is beautiful. The mold etched designs and wonderful colors add warmth and joy to your home. Let's see how these other patterns, which are still available at reasonable prices, can put the fun back into collecting.
Doric and Pansy comes in pink and ultramarine, which is a teal color (shown at left) and some crystal. It is unmistakable, with squares of pansy blossoms alternating with stylized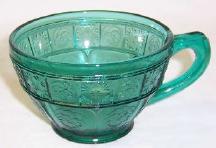 squares, and is exceptionally pretty. This is a mold-etched design. That means the beautiful flowers and squares were etched into the mold, then the glass was pressed, which makes the design raised above the surface of the glass.
Jeannette Glass made Doric and Pansy from 1937 to 1938 in regular adult sized dinnerware as well as a few miniature pieces for children's dishes. Doric and Pansy came in the usual plates, cups and saucers, creamer and sugar, tray, tumblers and serving bowls. Oddly, Jeannette made only one size of bowl for an individual place setting, the small 4½ inch berry bowl. This is a little small to use for soup but all that is available. The covered butter, good shakers and tumblers are among the harder pieces to find.
We don't see Doric and Pansy here in mid-Michigan very often. I've read that the teal had been shipped to England and Australia and now is more common than it had been. When we started in business in 1999 the teal was almost unobtainable but now it is the pink which is scarcer.
One point you need to watch for about Doric and Pansy is that the little horizontal ridges on the cups and other pieces tend to get nicks and rough spots. The other concern is that the ultramarine color varied a little from a blue teal to a more greenish teal. That's not a problem if you have several pieces in a range of colors, but if you have only one piece that is quite different it might look a little odd. If you decide that this is the pattern for you then you'll want to check this before buying.
Doric is similar to Doric and Pansy, except that where Doric and Pansy has pansy blossoms, Doric has blank squares. It sounds less attractive but the simpler design lends an air of distinction and class. Taste is individual but personally I prefer Doric.
Doric came in pink and green primarily. Jeannette made this a little before Doric and Pansy, from 1935 to 1938, and besides pink and green also made a little Delphite opaque blue and ultramarine and even yellow. I've only seen pink and green.
You have probably seen Doric even if you didn't recognize it. Have you come across a three-part pansy flower shaped candy dish? That is Doric. The most common color is an iridescent, which Jeannette made long after the depression, during the 1930s. You can find that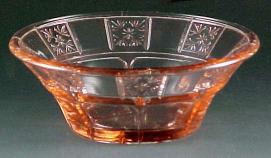 pansy candy in pink, green Delphite blue and aquamarine as well.
Doric has more pieces and is even more enjoyable to collect. You can find three sizes of table setting bowls, the small 4 berry, plus a 2-handled cream soup and a cereal bowl. There were three sizes of tumblers, pus relish trays, platters and pitchers. Shown at right is a small pink Doric bowl.
Doric also has the same little horizontal ridges that tend to get nicked. Last summer we bought several pieces and didn't notice the rough spots until we got the glass home, so do be aware of this. It's a good practice to email an online dealer and ask for confirmation when glass can have small problems that are easy to overlook.
Webmaster's NOTE: The NDGA wishes to thank the author for permission to use this article. Kathy is a dealer from Midland, Michigan. Her web site is Cat Lady's Glass.