Fostoria Elegant Glass - Fairfax and Lafayette
by Kathy Eickholt
Fostoria plain glass patterns are well-suited to today's decorating themes of simplicity and shape; with the undecorated blanks the beauty of the glass itself takes center stage. We'll look at two of these this month, the more angular Fairfax and rounded Lafayette, which are often confused. These are very pretty as both plain glass and when used for decorations. We'll publish future articles about Baroque, Raleigh, Century, and Sonata. If you enjoy elegant Fostoria glass these will be useful to help understand the glass you see and appreciate.
Fairfax and Lafayette look similar in photographs, more similar than they are in person. Both patterns have rims on many pieces and both have an optic.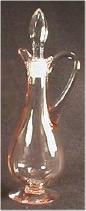 Fairfax tends to be more angular. Plates have definite sides with rounded angled corners; cups have rounded rims and feet; bowls are have rounded angled corners. Many Lafayette pieces have scalloped rims - these are easy to distinguish! Lafayette serving pieces are less angular than Fairfax, but the most fail proof way to tell them apart is to look at the optic. Fairfax has a single wide, softly rounded rib optic on the underside and Lafayette has two narrow rib optics separated with a narrow flat space.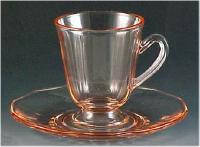 Fostoria made Fairfax from 1927 to 1944 in green, pink, called Rose, crystal, amber, topaz or Gold Tint, plus azure blue, a light rose purple, called Orchid, and even some pieces in Ebony and Mother of Pearl. Topaz is a light yellow that is cheerful and fresh. Mother of Pearl is crystal with a light iridescence that is charming and beautiful. The green is especially nice as it is a true, rich green and Fostoria's pink is a clear, light candy pink. The piece in the picture at right is the Fairfax pink demitasse cup and saucer.
Fairfax was a full line of dinnerware and table service glass, plus stemware and incidental pieces like candleholders, ashtrays, salad dressing bottles and a vase. Pieces you'll want to find include the serving bowls, shakers and salad dressing bottle (at left).
Fostoria used Fairfax for some of their most beautiful etches, including Versailles, Trojan, June and the brocade patterns. The simple lines look beautiful when etched. These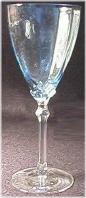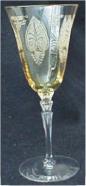 etches are among Fostoria's more ornate designs and they would look terrible on glass blanks that were fussier.
There was no true stemware in Fairfax. Instead complementary lines were used especially the Petal stem, number 5098 (far left) and the Waterfall stem, number 5099 (left). These came in the same colors and in bicolors, with colored bowls and crystal stems and feet.
Fostoria made Lafayette just a little later than Fairfax, 1931 to 1944 and some pieces remained until 1960. It came in crystal and topaz or Gold Tint and selected pieces were made in darker colors, notably Regal Blue, Empire Green, Burgundy, and Ruby. We've never seen one of these pieces as they are elusive. Fostoria made a few pieces in satinized crystal, called Silver Mist, amber, green, Wisteria (a light purple color similar to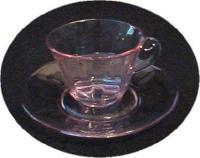 Alexandrite, shown in the Lafayette cup/saucer at right) and Rose. The topaz and crystal are fairly common and very pretty.
Lafayette is rounded and came in many incidental pieces, such as several sizes of sweetmeats, divided relishes, trays and so on. These usually have handles that look like ribbon bows. The gently rounded shapes combined with the ribbon handles give the pieces a fresh, festive look that makes you think of parties.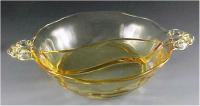 You may find pieces with solid handles with molded in scrolls that are otherwise quite similar to Lafayette. These are Line 2470 and they make excellent go-with pieces that can extend the range of items in Lafayette.
The most common color we find in mid-Michigan is topaz, which is a soft, light yellow. The piece pictured in the photo at left is the 2-handled oval relish that nicely shows the soft, flowing lines of this lovely design. You can see the 2-handled small oval tray, sweetmeat, and oval relish in our store in Topaz, plus we also have the Line 2470 small bowl.
Fostoria used Lafayette for many of their etchings, including Fuschia, Midnight Rose and Navarre. Other companies made a Fuschia cutting or etch but Fostoria's cannot be mistaken. The design is realistic and the pretty Fuschia bells dangle around the softly rounded optic and scalloped pieces of Lafayette.
As for damage, be sure to check the plain centers of both Fairfax and Lafayette for wear and scratching. The ground base rims sometimes get light nicks in the edges that usually don't show. The rims don't seem to be particularly susceptible to chipping and most pieces that we have found are in excellent to mint condition. If you are buying online be sure to ask sellers about wear if they do not mention it.
Webmaster's NOTE: The NDGA wishes to thank the author for permission to use this article. Kathy is a dealer from Midland, Michigan. Her web site is Cat Lady's Glass.