Federal Glass Company's Diana
by Kathy Eickholt
Depression glass designs either have mold-etched designs or are pressed with geometric designs like ribbing or squares. Federal made several well known mold-etched designs, such as Madrid and Georgian, and only a few of the geometric patterns. Diana is one of the few Federal geometric patterns with its swirled fine ribs that catch the light and add sparkle to your table.
Federal made a lot of green and amber depression glass, with some crystal (clear), pink and blue. Federal made Diana in crystal, pink and amber.
Another point of interest is price. Diana tends to be quite affordable while many Federal patterns, such as Georgian, are on the higher priced side in today's markets. These differences start with simple sherbet plates that are a few dollars in Diana but may be twice that or more in Georgian.
Diana is generally fairly good quality for mass-produced depression glass. Depression glass is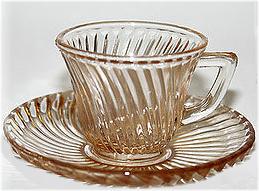 known for having flaws such as rough seams, bubbles, strawmarks and such. Federal Glass patterns certainly will have bubbles and strawmarks, but they are usually fairly well made and don't have the protruding seams you will see in other companies' wares. The colors tend to be pretty consistent so you won't have to hunt for pieces in the same shade of clear or amber.
Diana is a later Federal pattern, made from 1937 to 1941. As noted above, Diana is a ribbed swirl design that gets its looks from the way it catches the light. It also is pressed glass, made quickly and inexpensively from molds.
There are many patterns from the depression and even earlier with swirls and ribs. You can tell Diana because the ribs are rounded and thin and pieces with a center, like plates or bowls, have a separate swirled center. The shapes are different among these patterns too, so if you look at the shapes you won't mix up Diana with other patterns. The only piece that could cause problems is the sherbet. I have personally not come across one, but photos show the sherbet to be very similar to Hocking's Spiral sherbet. Since Spiral was mostly green and Diana was not made in green, you should not find this as much a problem as it could be.
You can find crystal Diana trimmed with gold or silver and these are handsome pieces. The clear glass sparkles quite a bit already and adding a bit of metal trim makes it glitter even more. The silver trimmed pieces are especially nice and you can see a demitasse set trimmed in silver in the photo. If you choose to collect the trimmed pieces be sure to wash them by hand to keep the gold and silver intact. If you buy these online you will want to ask about gold or silver wear before buying. Don't be afraid to get glass with some light wear, but you probably will prefer pieces that have rims that are fully trimmed. You may find pieces with other trims, including colored bands or satinized.
Diana is a fairly small pattern but it has some eye-catching pieces. The demitasse sets are very nice and unusual to find in depression glass. Demitasse sets are about the size of doll dishes; cups are about 1 7/8 inches tall and saucers are 4 1/8 inch inches across and have a definite cup ring. Federal made the demitasse sets in pink and crystal and crystal with silver and possibly crystal with other treatments; my reference book shows a set with red stain. There is only one size tumbler, the water, and no stemware. You may find dinner plates, sherbet plates (which are the size for a small salad), cereal bowls, cups and saucers, cream soup, platters and candy dish. Federal didn't make a Diana pitcher, vase or candleholder. There are two large serving bowls, one with a scalloped rim and one with a plain rim. The scalloped rim bowl is 12 inches across and called a scalloped fruit bowl. It is a pretty piece.
You do have to be careful not to mix up the small sherbet plate with the saucers as both are the same size and look a lot alike, especially in photos. The saucer has a definite cup ring with the swirled ribs being above the ring. The sherbet plate rim slopes down to a wide center section but this center section is too large to hold a cup.
Diana is not particularly prone to damage. The ribs are small enough and rounded that they don't tend to chip and the plates do not have inner rims. Just check the edges and make sure the rims are intact and the centers are not worn.
One nice thing about Diana, especially compared to Georgian and some other Federal patterns, is that it is priced reasonably enough that you could use the glass for every day if you wanted. Plates will show wear over time but with care you can use and enjoy your set for several years before you need to consider replacing pieces.
Webmaster's NOTE: The NDGA wishes to thank the author for permission to use this article. Kathy is a dealer from Midland, Michigan. Her web site is Cat Lady's Glass.