Jeannette Glass Company's post-Depression patterns
by Kathy Eickholt
Jeannette Glass made some of the most popular Depression glass, such as Cherry Blossom, but fewer people are aware of the Jeannette patterns made during the 1940s into the 1970s. Jeannette Glass made collectible patterns including Floragold (Louisa), Harp, Dewdrop, Holiday, and Anniversary in the 1940s to 1970s.
Floragold
Floragold was one of Jeannette's most extensive patterns. It has a Depression glass look with its mold-etched flower design. The shapes are interesting and combine square bases with rounded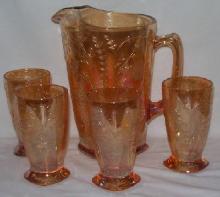 shapes and ruffled rims. Floragold made pieces that were similar to Iris, such as the ruffled edge bowls.
Floragold is a bit of a chameleon when it comes to classification. It was made in the 1950s. Floragold can be viewed as a Depression glass pattern based on its design, although strictly speaking it was later. It is usually found in iridescent. Collectors call it Louisa and the nickname came from its similarity to a much-older EAPG pattern glass pattern. You may see it described as carnival glass because it is iridescent.
Collectors should take care with some of the pieces, especially the tumblers. Jeannette made two styles of tumblers, one with a band molded into the top and one without. We have received comments from collectors questioning whether one style or the other was authentic. Some of the best known reference books, particularly those of author Gene Florence, show photos of the banded style. Other collectors feel the bands detract from the look and prefer the plain style, especially to go with the pitcher which has a plain top. It is always wise to ask your seller and examine photos to be sure you get what you want.
Floragold is a fun pattern to collect because it came in so many shapes and pieces. You can put together a complete dinner or lunch set, including dishes, bowls, cups, saucers and tumblers. Serving pieces include pitcher, several bowls, platter and shakers. Floragold has ruffled and plain bowls in several sizes ranging from sauce dishes to larger console-size. A side note on the shakers is that the tops are older plastic and crack easily. The most expensive pieces that are reasonably common are the shakers, square dinner plate and deep salad bowl.
Harp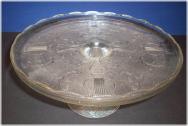 Harp looks like older glass but was made for only a few years in the mid-1950s, 1954 to 1957. It fits its name, with a harp design pressed on a background of raised dots. (A pattern of raised small dots is called stippled.) It's surprising how often one can find a Harp cake plate like the one shown at right. We see three or four cake plates for every other piece of Harp. The cake plate came in various colors, including crystal with gold trim. The other pieces include a coaster/ashtray, plate, tray, vase, cup and saucer. Harp was meant mainly as an accessory set. There is no creamer or sugar, which seems odd given the cake plate.
Dewdrop

Dewdrop (bowl, shown at left), made 1953-1956, has a design of wide stippled bands alternating with plain glass. It's a small pattern with mainly accessory and serving pieces. The Lazy Susan, punch bowl, pitcher and butter are good examples. Although it had tumblers it is scant on plates. The large bowl in the photograph is the Dewdrop punch bowls available on our website linked below.
Holiday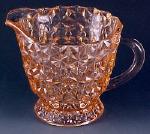 Holiday (creamer, at right) is heavy pressed glass with a button and bow motif. It comes in crystal and in pink. The pink is quite pretty, similar in color to Cherry Blossom and the other depression patterns. Holiday is a fairly complete pattern, which includes pitcher, plates, tumblers, bowls and serving pieces. Holiday was made in the late 1940s to mid-1950s.
Anniversary
Anniversary is another line that started in the late 1940s and was reissued in iridescent in the late 1960s to mid 1970s. Like the other Jeannette patterns described here, it is fairly heavy pressed glass. The design motif is pressed rays with smaller diamonds. This description doesn't do it justice as Anniversary is quite attractive and easy to spot and identify.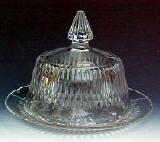 Probably the most common Anniversary piece is the cake plate. This cake plate is flat, no pedestal, and stands on three little tab feet. It has an indented space around the rim to hold a cake cover. This is a great piece to buy if you are looking for a retro design as it fits the brightly decorated vintage metal cake covers. It is also very useful and a great size for cakes or other food. Our son gave us an Anniversary cake plate and cover which we use frequently.
One of the most interesting pieces is a vase that was made to go in a car. It has a flat side and was meant to pin to the cloth-covered interior. The older cars needed something pretty when a 100 mile trip on bad roads would take close to a full day.
Anniversary came in pink and crystal originally, and during the 1970s was reissued with an iridescent carnival-like finish. We have a few pieces of Anniversary – for some reason it isn't very common where we live. When we do find Anniversary it is usually in good condition.
Webmaster's NOTE: The NDGA wishes to thank the author for permission to use this article. Kathy is a dealer from Midland, Michigan. Her web site is Cat Lady's Glass.