Monongah Glass Company
by Kathy Eickholt
Quick. What glass company made the etch that later became Hocking's Cameo? Yes, Monongah Glass. Monongah produced beautiful plate etched stemware patterns including Bo Peep, Roseland and Springtime.
In the 1920s Monongah Glass made several etched glass patterns that are sought after yet today. The Bo-Peep etch is just what it sounds like. A shepardess with a large bonnet and poofy skirt is in a center oval surrounded by scrolls and swags. Monongah used this etch on green, pink and amber, and green or pink combinations with crystal. It is exceptionally pretty and highly collectible. The shepardess motif makes it easy to identify.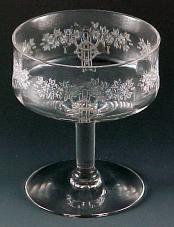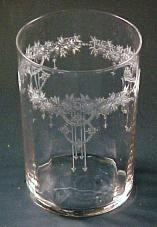 Roseland came out in the mid-1920s and is the sherbet on the left side of the photo. It is easy to recognize with an arching band of flowers that circles the stem and double wreaths. There are four ribbon streamers that flow down into the wreaths that look like arrows. This art deco touch makes Roseland a superb design that looks great on goblets, sherbets and tumblers.
Monongah is remembered for their Springtime etch, with Isidora Duncan dancing with scarves in a center cameo surrounded by swags. After Hocking Glass purchased Monongah, Hocking converted Springtime to the mass-produced Cameo depression glass. Hocking adapted the intricate etching which required artisan hand work, into a mold etch. After the mold designer finished making the molds Hocking could make thousands of pieces by machine.
Hocking bought Monongah in the early 1930s. One reason Monongah's glass is less well-known is there have not been books about Monongah as there have about Fostoria, Heisey or Cambridge. John P. Zastowey produced a good reference on Lancaster Glass that included sections on Standard Glass and Monongah (Hocking bought Lancaster and Standard). Perhaps Mr. Zastowney's book will increase the appeal of Monongah glass.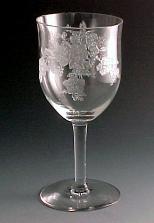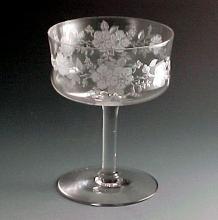 Here's a mystery for you. Why would a glass company call a pattern "Secretaries Primrose"? This etched goblet is line 850 from Monongah Glass, and yes, the pattern name is Secretaries Primrose. This is another etch that is easy to recognize it - once you have seen the picture.
Secretaries Primrose has big five-petaled flowers with solid petals grouped into bouquets and the design looks engraved. The style is different than Roseland; the flowers appear solid. Secretaries Primrose is a beautiful design executed with top craftsmanship, a real winner.
I've no idea why the name. Monongah is long out of business so this will remain a mystery. Mr. Zastowney purchased several stems from us to use in his next edition. We can hope this will make Monongah Glass better known. The etched patterns are gorgeous and the glass is well made and artistically finished. This is one glass maker we'd like to see come out of obscurity.
Webmaster's NOTE: The NDGA wishes to thank the author for permission to use this article. Kathy is a dealer from Midland, Michigan. Her web site is Cat Lady's Glass.