Princess Depression Glass - Scrolls and Squares from Hocking
by Kathy Eickholt
The next time you want to feel like a queen put your Princess pink depression glass on the table and use it with your friends. What a great way to show off your collection and make your friends feel special.
Princess depression glass plates, bowls and lids are all square shapes with the corners cut off and made into slighly scalloped edges. The rims are wide and set up to show off the beautiful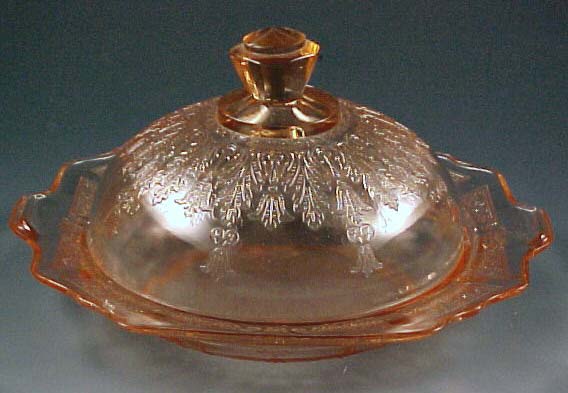 pattern of scrolls and swags - it reminds me of window drapes with long tassles - and the centers have a beautiful feathery design of tassles that look like feathers. It is a very pretty pattern and you can find so many great pieces that is a lot of fun to collect.
Some of the neat Princess glassware pieces are the covered butter dish, tumblers, tall footed candy, cookie jar and pitcher. CatladykatesGlass.com is pleased to announce we were able to buy a large set recently and have these pieces and more offered for you. Lidded pieces have tall pointed finials and the candy and cookie jar lids are square shapes, so these are distinctive and stylish that look sharp.
You will find Princess tumblers that are cone shaped and footed as well as the traditional flat tumblers. One benefit of the mold etched swagged design is that the pattern is raised on the exterior which makes it very easy to hold the glasses, even when they are wet. If you have ever tried to hold a slippery piece of expensive depression glassware you will appreciate this! Currently our Princess tumblers in stock are the flat style.
Hocking made Princess from 1931 to 1934, the early part of the depression, and it is one of their first mold-etched designs. One point we all enjoy about Hocking glassware is the wide range of pieces in patterns that they made for several years like Princess. Hocking made Princess in pink, green and topaz. The pink is the most collected. Hocking's colored glass of the depression era was extremely attractive. The pink is a true candy pink, with no trace of orange or amber, cheerful and pretty; pink Princess looks like "good glass" that is special. Hocking's green is very attractive, fresh and springlike.
Hocking made several patterns in topaz yellow besides Princess, such as Block Optic and Cameo. But Princess is the only one of these three where the yellow color varied quite a bit. The true topaz is a soft sunny yellow. Some pieces are closer to an amber color, noticeably darker, and many people call this darker yellow glass apricot. This is an attractive color - you can't go wrong with any of the Hocking colors - but you should be aware the topaz glass color may vary if you buy glass online. As with collecting any glass, knowing your pattern will help you buy safely and get what you want. Remember to ask sellers when you can't tell by the photo or description.
What about damage, especially with those wide rims? Even though the pattern looks like there are sharp corners on the inside rims, the glass actually is more rounded especially on plates and some serving pieces. This is important because it keeps the amount of nicking and inner rim roughness down on plates, platters and serving bowls and berry bowls.
The cereal bowls, creamer and sugar, and the candy dish have more definite inner rims and my experience is that these get nicked. If you consider glass online then you may want to ask the seller to check the inner rims carefully, especially with these pieces as many people don't think to do this. When you are able to buy glass in person, do check the inner rims and the outside edges, both on the side and on the top and bottoms of the sides. Most of the outer rim nicks I've seen in Princess have been under the rim, not right on the edge.
As usual, the scalloped edges and points on lids can get nicked. You'll want to handle your glass carefully, and consider putting a piece of thin paper between the lid and the base on your cookie jar. In my personal experience, sherbets and tumblers seem to be pretty sturdy, which is a little surprising since they look thin and delicate. That's a good thing to know since tumblers are scarce and expensive in so many patterns.
Princess is a moderately priced depression pattern. You'll spend $25 to $60 (July 2009) for tumblers, in the mid 100's for a butter dish with cover, and probably under $100 for the pitcher, cookie jar and candy. This is quite a bit less expensive than the same pieces in the most sought-after patterns. Pink and green are more expensive than topaz and the amber/apricot colors, probably in part because of the color difference in yellow and of course, pink is very popular in almost all patterns today. This means you can set your table and show off your glass and enjoy using it without breaking bank.
If you only will accept glass that is absolutely mint, which means no wear whatsoever, then you will find the scarcer items like cookie jars, butters and candy dishes a little more expensive than if you are willing to accept a bit of roughness, for example on the interior of the cookie jar. After 75 years it's getting difficult to find glass that is perfect. (And depression glass was seldom perfect, even right off the manufacturing line.)
Webmaster's NOTE: The NDGA wishes to thank the author for permission to use this article. Kathy is a dealer from Midland, Michigan. Her web site is Cat Lady's Glass.