The Romance of Vintage Stemware
by Kathy Eickholt
Here is a way you can add beauty to your home, set yourself apart and enjoy using a link to American history. During the 1930s-80s many American glass companies produced gorgeous stemware in a myriad of patterns, shapes, themes and even colors. While most of these firms are no longer extant, their glass stemware – goblets, wines, sherbets and more – remain here and available for us to use and enjoy. Owning vintage stemware gives you something tangible from a bygone day.
Vintage stemware is a fantastic gift, especially for weddings or couples celebrating milestone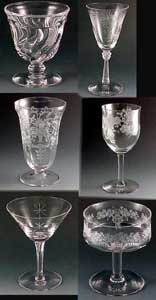 anniversaries. What better way to wish long life and happiness together than to give something elegant and useful that survived for many years?
Best of all, you have a variety to choose among. We'll look at several patterns from two makers with this article, and still barely cover a tiny fraction of the patterns and styles.
First, let's look at four Fostoria patterns, each very different.
Colony is sturdy, with a pressed spiral design that sends the message of durability and simplicity. Colony would be a good choice for a couple that enjoys the simple hominess of Shaker styling. The piece shown on the top left is the oyster cocktail. Unless one serves oysters frequently, this may not be as useful as the water goblet, which is shown on the right. An updated use for the oyster cocktail would be to hold dipping sauce.
The next Fostoria design is Florentine etch, shown left middle row. This is simply gorgeous with its etched design of an urn spilling over with flowers and swags of leaves. The stemware itself is also very pretty with a twisted stem. We show the footed water tumbler and you can imagine using this in a slightly formal setting, with china and candles.
Third is a Fostoria champagne sherbet from the early 1970s. The 1960s brought in extremely simple designs with minimal ornamentation. Think of the pictures you have seen of Jackie Kennedy; that emphasis on simple shapes meant the glass companies had to adapt to the changing tastes. The champagne stem is Evening Star, which has a slightly dressed up stem shape and an engagingly simple star cutting. This would be nice in many homes with contemporary furnishings. Thisis left side bottom row.
Our last piece of Fostoria stemware dates to about the same era as Colony, and shows a different style. This water goblet is etched with the Lido etching, which resembles a milkweed puff or fireworks. This is another design that works well in many settings; it is neither quite as dressy as Florentine nor as sturdy as Colony, and it appeals too many. Lido goblet is top right.
You probably noticed the wide variety of stem types. We showed an oyster cocktail, two water goblets, very different from each other, a footed water tumbler, and champagne sherbet. During the early elegant glass era one could purchase as many as 15 different stems in a single pattern! Rather thanhaving one wine with dinner people often served a different wine with each course, plus a cocktail or sherry before and a brandy or cordial after. This sounds like more alcohol that it would have been. Wine goblets from the 1930s were much smaller than what we think of today as for wine, usually holding 3-5 ounces. Thus one could enjoy more than one drink with a meal.
Fostoria is well known yet today and many families inherited a few pieces of stemware. What better way to cement the link to the past and bravely look to the future than by completing the pattern and then using the goblets with one's family and friends.
The next maker we will look at is more obscure, Monongah. They were in business until the early part of the depression when they became part of Hocking Glass. Their best known design was Springtime, which Hocking converted to the mass-produced Cameo depression glass pattern. Their etchings are very well done, tasteful yet have enough complexity to be appealing and desirable. We were fortunate to find two different stemware patterns from this company.
The second etched goblet we show, Secretaries Primrose, is actually rare, which is too bad since it is beautiful and high quality.
The next one is Roseland. This deco-styled etch has swags, circles and dangling arrows and was made on the usual range of stem types. We show the champagne sherbet on the lower right. A pair of champagne stems would be a lovely gift for the bride and groom to toast their happiness.
Any of these would be a wonderful way to add a sense of timeless beauty to your home and add romance to your lives!
Webmaster's NOTE: The NDGA wishes to thank the author for permission to use this article. Kathy is a dealer from Midland, Michigan. Her web site is Cat Lady's Glass.