The Fenton Logo in our Glass ... A Bit of History
by Fenton Art Glass Company
Moulds are important assets in any glass factory, and especially at Fenton, where we make glass the old fashioned way -- by hand -- using tools and techniques essentially unchanged from those of centuries ago. Our storage areas contain more than 11,000 cast iron moulds, most of which were made by skilled mouldmakers in our own mould shop since we started glass production in January 1907.
Over the years, Fenton has acquired a number of historic moulds that originated at other glass companies. In the 1930s, we obtained a few moulds from the Diamond Glass-Ware Co. of Indiana, Pa., after that plant had been destroyed by fire. In the 1950s, we bought moulds from the Paden City Glass Manufacturing Co., and a mould for a bird figurine became our popular 5197 Happiness Bird. In the 1960s, we purchased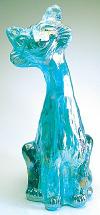 quite a few moulds from two firms that ceased business: Verlys of America and the United States Glass Co. Many Verlys moulds have been used in the Fenton line.
Our popular 5177 Alley Cat (shown at right) debuted in the 1920s at U. S. Glass, where it was called Sassy Susie. When we began to mark Fenton-made glass with the oval Fenton logo in the 1970s, the now-familiar oval logo was put into Fenton moulds as well as those that had originated elsewhere.
In the 1980s, we acquired moulds from the former McKee Glass Co. and during the liquidation of the Imperial Glass Corp., so we decided to denote glass made with these moulds with a distinctive,



but different logo: a script F within a vertical oval. Some years later, when moulds were acquired from The Beaumont Company, the L. G. Wright Glass Co., and some other sources, this same practice was followed. A small "8" designates glass made in the 1980s, and a small "9" designates the 1990s. From 2000 through 2009, we used a small "0". We began to use a small "1" in 2010, and this will continue through 2019. We take great pride in being able to revive historic glass patterns and items from the past that originated at great glass factories no longer with us.
Within the past few years, we've added "USA" close to the logo on all of our moulds, both those originating at Fenton and those from other American glass companies. The "USA" characters appear only on glass made at the historic Fenton factory in Williamstown, West Virginia.
Webmaster's Note: This article was written by the Fenton Art Glass Company and the NDGA wishes to thank them for permission to reprint it. It is of particular interest because it explains the various logos used by the company (allowing you to date certain pieces) and contains valuable information on moulds obtained by Fenton from other glass companies. Their very informative web site is located at: www.FentonArtGlass.com.