Farber Brothers
by Don Mullins, Tulsa, OK
Louis and Harry Farber, born in Russia in the late 1800s, were educated in Europe and their family immigrated to the United States in The early 1900s. Louis and Harry Farber worked for their older brother, S. W. Farber, whose products were merchandised under the trade name "Farberware." They continued there until 1915, when they decided to venture out on their own, forming their company under the name "Farber Brothers Krome-Kraft."
A common misconception among collectors and dealers is the practice of mislabeling Farber Brothers products as Farberware. Although they were blood relatives, there was never a corporate relationship between the two companies. To date, Farberware is still in business and can be found in department stores.
The Farber Brothers original 1915 concept for their company was to produce superior quality hollow-ware and brass goods to be sold at competitive price.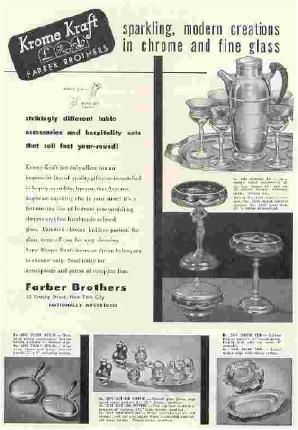 This concept kept them successful for fifty years. In 1932 the Farber Brothers Company invented their famous patented clip-On clip-off holder, which would hold glass or china inserts which could be easily replaced if broken, cracked or chipped. This wonderful invention set the tone for production and sales throughout the remainder of the company's existence.
In 1935 Louis Farber bought out the Sheffield Silver Company, being maintained as a separate company throughout ownership. Many items were produced in Sterling and Silverplate with glass inserts and the patented clip-on clip-off holders. Although items sold by this company were stamped with a different logo, it is obvious that they are of the original Farber Brothers design. These items are highly prized by collectors.
In the early to mid fifties, consumer tastes had changed and Farber Brothers famous non-tarnishing chrome holders were no longer in demand. In the early part of his company's existence several items were produced in solid brass as an effort to pick up declining sales. These items sold well initially but lost their popularity in a short period of time. Also, the company was hampered by the loss of several of the glass companies that had supplied them with inserts.
In 1965, Farber Brothers Krome-Kraft ceased operations. The Sheffield Silver Company continued to do business until December of 1973, when it was sold to the Reed & Barton Silver Company.
Having lived for over half this century myself, it seems this company had a short life to have left such a legacy of beautiful items to be collected.
Approximately 80% of their inserts were produced by The Cambridge Glass Company. Other known producers were Fenton, Fostoria, Heisey, Imperial, Indiana, New Martinsville, Corning, Viking, Thermos, Westmoreland and Duncan & Miller. Several items found have not been identified as to manufacturer. Jeannette and Paden City may have also produced inserts. There have been several different designs of holders found which are 22kt gold plated mosaic finish and have Lennox China inserts. These are highly prized.
Other items produced were bonbons, butter dishes candy dishes, candelabra, candlesticks, console sets, stemware such as cocktails, wines and cordials, sherbet sets, tumblers, beverage sets, compotes, oil & vinegar sets, condiment sets, decanters cocktail shakers, Tantalus sets, ice pails, ice tubs, mustards, marmalades, mayonnaise sets, pitchers, juice jugs, claret or punch sets, beer or water sets, relish, lazy Susans, preserve dishes, toothpicks, pickle dishes, salt and pepper sets, open salts, sugar and creamer sets, vases, bitters bottles, cigarette urns, bowls, handled baskets, cheese and cracker dishes, just to name a few.
These can be found in colors of Amber, Amethyst, Forest Green, Royal Blue, Crystal, Carmen, Ebony, Milk, Pistachio, Dianthus Pink, Moonlight Blue, Heatherbloom, Mocha and Late Dark Emerald. The most frequently found colors are amethyst and amber, which make them the least expensive except for Candle holders which are hard to find.
There are five known etchings for the inserts: Chantilly (found most often), Diane, Elaine, Rosepoint and Wildflower. Other Cambridge patterns used were: Optic, Pristine, Caprice, Tally-ho and Nautilus.
My collecting Farber Brothers wares is probably a nostalgia thing from my childhood, being awed by the sheer beauty of the pieces. One of the unique things is that my dear wife, who collects nearly everything, does not collect Farber Brothers. It is all mine.
Webmaster's Note: This article was taken from the publication "Glass and More, May 1999" with permission from the publisher, Dr. Leonette Walls.