Cumberland Glass
Glass Factories in or near Cumberland, Maryland
Lonaconing / Utility / Sloan Glass Companies
The glass factory in Lonaconing, Maryland, was started in 1914. It was located between George's Creek and the Silk Mill near the center of town in Lonaconing. It was started by Thomas and Alfred Dugan and was named Dugan Glass Co. of Lonaconing. By November of 1914, a newly-built plant was operating, and by December, two pressed tableware patterns were being shown at the Pittsburgh Glass Exhibit. A February 1915 advertisement in China, Glass & Lamps, indicated pressed bar goods, decorated goods, and lime blown tumblers.
In March of 1915, the Dugans withdrew from the business. Alfred returned to the Dugan/Diamond Glass Co. in Indiana, PA. The brothers had started the glass factory in Indiana, Pa. many years previous. Thomas found employment with the Hocking Glass Co. in Lancaster, Ohio. When the Dugans left, the name of the Dugan Glass Company in Lonaconing was changed to the Lonaconing Glass Co. The product line eventually moved away from pressed glass to blown glass. In 1918, the plant closed due to a natural gas shortage under wartime curtailment.
The glass plant was reopened in 1920, and operated under the name of Utility Glass Co. The company secured a contract to make a new type of automobile lense. The early auto light lenses were made from clear window glass. A federal law was passed requiring a non-glare type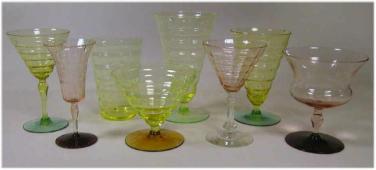 lense. The Utility Glass Co. soon began making the new non-glare lenses. The factory was also making some pressed ware and blown tableware. In addition, they also did decorating by cutting, and acid etching. They had a separate building for the acid etching where they did deep plate etching and needle etching. Click on the photo at left to see a larger image.
In 1929 the factory closed for a while and was reopened by Dixon and Alexander Sloan as the Sloan Glass Co. On April 25, 1929, the Sloans lost their Potomac Glass Co. to fire, so they were looking for a place to continue making glass. Unfortunately, this factory in Lonaconing also burned down on March 6, 1932.
Other than the general items of production mentioned above, there are no catalogs, pamphlets, or flyers indicating the products of these three glass companies located in Lonaconing save for one recovered advertisement. The Utility Glass Works ran an advertisement for "Cambodia Ware". This was a type of ringed or ripple tableware, mostly with narrow optics and made in several soft colors. The color combinations were canary yellow and light amber; light amethyst (purple) and pink; canary yellow and light green; light green and pink; and light amethyst and dark amethyst. It came in everything from stemware to tumblers, candle holders, vases, plates and bowls. Click on the picture to see a larger version. In September 2001, the factory dump was visited with many nice artifacts found of this very "Cambodia" ware. Also found were artifacts of dinnerware and several molded, Hokey-Pokey type stem designs. We found artifacts of the automobile lenses that had been made at the glass factory. The embossing on the lense was as follows; (Benzer Lens Type A Brooklyn NY Patented in USA and Canada). The factory made crackle glass type pitchers, footed tumblers, tumblers, and lamps. We found crackle glass in the dump.
Webmaster's NOTE: This article, and related articles on the subject of Cumberland Glass, came from the web site www.cumberlandglass.org. The NDGA wishes to thank Dale Murschell for permission to post this article on our web site.