NDGA 2015 Convention Information
July 11-12, 2015 - Kansas City, Missouri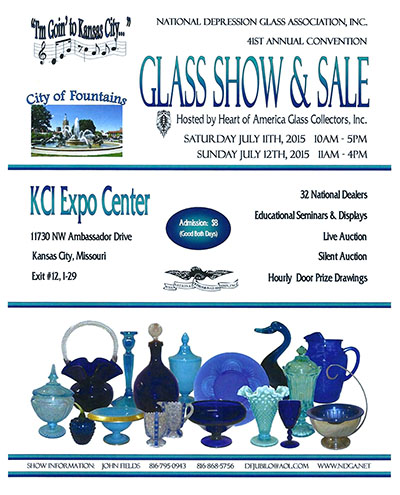 The 2015 Convention Chairperson is John Fields. He will be looking for volunteers to work at the Convention, and will be naming a Display Coordinator to handle the displays. Send him an email if you're willing to help.
The schedule should be similar to past Conventions. We'll have a general membership meeting. Seminars on various topics will be presented during the Convention hours, and you know there will be a fantastic array of displays from individual collections. We will post the latest information from the Convention Chairman as it comes in, so check back for updates periodically.
In case there is any confusion, ALL GLASS LOVERS ARE WELCOME. You do NOT have to be a member of the NDGA to attend this Convention. Come one and all, bring a friend, have some fun, buy some glass and learn a whole lot about American-made glassware. Although the organization name contains the words "Depression Glass", be assured that there will be all kinds of American glass represented.
Schedule of Events
The Convention will be held at the KCI Expo Center in Kansas City, Missouri.
Here is the final show program.
Thursday – July 9th

6:00 pm Pickers Antique Mall has graciously invited NDGA for a shopping evening and light refreshments. This is a great opportunity to find that special glass item and to socialize.

RSVP: convention@ndga.net if attending


Friday – July 10th

5:30 pm Membership Meeting

Immediately following the meeting, the Heart of America Glass Collectors and friends will host a Reception in the Foyer just outside the Missouri Ballroom in the Holiday Inn Hotel.

RSVP: convention@ndga.net if attending

Saturday – July 11th

10:00 am – 5:00 pm Glass Show & Sale

10:00 am – 2:00 pm Silent Auction

Seminar 11 am "Visit To a Glass Museum – No Admission Fee"
Helen Jones

Seminar 1 pm "Glass 101 – A Primer for Beginners"
Dean Lowry

Seminar 3 pm "Heisey – More than Crystolite and Colonial,
6 Decades of Elegant Glass from Newark, Ohio"
Eric Tankesley-Clarke

6pm Banquet, followed by Live Auction

Sunday – July 12th


11:00 am – 4:00 pm Glass Show & Sale,

12 pm - 2 pm Free Glass Identification

Seminar 12 pm "Visit To a Glass Museum – No Admission Fee"
Helen Jones

Seminar 1:30 pm "Glass 101 – A Primer for Beginners"
Dean Lowry

Seminar 2:30 pm "Heisey – More than Crystolite and Colonial,
6 Decades of Elegant Glass from Newark, Ohio"
Eric Tankesley-Clarke
National Glass Organizations
Each year, the NDGA invites representatives from other national glass organizations to participate in our Convention, each with a table with membership information for their organization and other items of interest.
We appreciate the involvement of the following organizations.
Click on any picture to open the picture in a new window.
National Glass Museum
Home of the National Glass Collection
Tiffin Glass Collectors, Inc.
Heart of America Glass Collectors, Inc.
Peach State Depression Glass Club
Dee Komro & Electa Keill
Museum of American Glass in West Virginia
Helen Jones
National Cambridge Collectors, Inc.
Freeman & Jeannie Moore
Heisey Collectors of America
Tom & Kathy Files
Great Plains Heisey Club
Fostoria Glass Society of Tennessee
National Imperial Glass Collector's Society, Inc.
Autumn Wicks & Jennifer Fine
The Stretch Glass Society
Tim & Lei Cantrell
Fenton Finders of Kansas City
Nick Duncan
H.C. Fry Glass Society
Jeff & Kathy Hayden
Old Morgantown Glass Collectors Guild
Leora & Jim Leasure
Registration
There is no registration required to attend the Show or Convention. However, if you plan to attend the Saturday night banquet, you will need to complete this
registration form
. Make sure to send your completed form and payment prior to July 1, 2015.
NDGA Annual Meeting
The Annual General Membership Meeting will be held Friday evening, permitting time for other activities Saturday evening. The meeting should last about 1½ hours, and all members are encouraged to attend and participate. The newly elected Board members and Officers will be introduced and sworn in.
President Danny Cornelius and the Board at the membership meeting.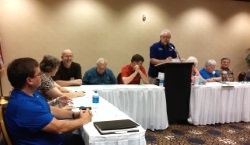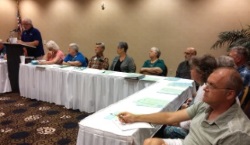 Live Auction
NDGA's 4th Live Auction will take place Saturday night after the banquet and promises to be the best one yet. The auction is open to the general public and should start around 7:30 p.m.
Here is a PDF of the most current listing for the Live Auction at convention. This list is alphabetical, and not the order the items will be auctioned.
Remember, proceeds will go to the Museum Support Fund to help keep the museum up and running.
Silent Auction
There will be another Silent Auction during the Glass Show, to raise money for the National Glass Collection. Members contribute various pieces of glass or other items (books, etc.), to be sold in the silent auction, with the proceeds going to the NDGA National Glass Fund. We've had some interesting items in past auctions, including a set of tire chains! Bring along something to donate to the auction - it's for a good cause. Use your imagination.
Glass Displays
Each year at the Convention, collectors share their personal collections of glass and pottery with the rest of us. It is often the only opportunity that we have to see some of the rare and unusual items that are in private collections. Thank you to everyone for taking the effort to display their collection.
Click on any picture to open the picture in a new window.
Fenton Blue Ridge
Tom Linback
St. Peters, MO
Massachusetts EAPG
Dolores Kuhnert
Independence, MO
Fostoria Holly
Holly Fields
Independence, MO
Fostoria Vernon, Blue #2729
Gene Loveland
Grain Valley, MO
U.S. Glass Missouri State Pattern EAPG
Danny cornelius & Don Jones
Port Washington, OH
Heisey Flamingo, Empress Etch
Marybeth Will
Kansas City, KS
Glass Animals
Jonathan Fields, Sr.
Independence, MO
Fostoria Heirloom
David Hollingshead
Kansas City, KS
Consolidated Catalonian
Adam Headley
Kansas City, KS
Cambridge Blossom Time
Ed Pailer
Kansas City, MO
Cowan Pottery
Bill & Pat Rose
Stilwell, KS
Cambridge Caprice
Gwenell & Scott Pierce
Keller, TX
Jeannette Shell Pink Milk Glass
Pam Meyer
McKinney, TX
Cambridge Wildflower
Larry Mattox & John Lacy
Independence, MO
Fostoria Versailles, Blue
Jonathan Fields, Jr.
Independence, MO
Vernon Kilns - Our America
Brad Allen
Kansas City, MO
McKee Clocks
Glen & Barbara McRoberts
Carrollton, TX
Jeannette Windsor, Pink
O. Wayne Smith
Independence, MO
Seneca
Mark Evans & Tony Patterson
Lee's Summit, MO
Swanky Swigs
Dewayne Kuhnert
Independence, MO
Hall Pottery - Mixing bowls & Pitchers
Lee & Jean Spalding
Wichita, KS
Morgantown - Bicolor & Two Tone
Gene Cooper
Kansas City, MO
Jeannette Cherry Blossom
Bill & Emma Byrd
Oklahoma City, OK
Morgantown Glass
Jim & Leora Leasure
Eighty Four, PA
List of Participating Dealers
Most dealers in the Glass Show portion of the Convention have been doing the shows for a number of years. The NDGA maintains a waiting list for dealers who wish to be considered. The list is maintained in date order, applications with earliest date received at the top. Prospective dealers may fill out the NDGA Dealer Application form. Prospective dealers must be a current member of the club in order to apply to do the convention show. Please click here to join the NDGA.
Here are the dealers for the 2015 Convention.
Depression Classics
Pam & Bob Franscella
Gurnee, IL


JS Antiques
Jane & John Schleinzer
Aurora, IL

Rae Patrick Enterprises
Sharon & Pat Ervin
Sycamore, IL

Tucker's Treats & Antiques
Kay Tucker
Cottage Hills, IL


Curio Cabinet Antiques
Janet Wasson
Highland, IN

Helen Allen
Helen & Gene Allen
Overland Park, KS

McEwen's Extras
Carol McEwen
Wichita, KS

R & J's Antiques
Ron & Judy Druse
Topeka, KS

The Fralicks'
Eric & Jaye Fralick
Overland Park, KS

Thirties Premiums
David Hollingshead
Kansas City, KS


DJ Glass
Don Rogers
Wentzville, MO

John & Dovie Fields
Independence, MO

Jonathan Fields
Independence, MO

Red Apple Antiques
Dale & Betty Buersmeyer
Pacific, MO

Carolina Antiques
Jack Peacock
Winston-Salem, NC

The Glass Chalet
Sandra Bridwell-Walker
Newcomerstown, OH

Leasure's Treasures
Jim & Leora Leasure
Eighty Four, PA

David Cleveland
Dallas, TX

Enid's Glassware
Enid & Len Waska
Flatonia, TX

Max Miller Antiques
Max Miller
Houston, TX

Showcase Glass
Bert & Donna Kennedy
Mesquite, TX

Backward Glances
Helen & Bob Jones
Berkeley Springs, WV

L & M Glassware
Michael & Leegh Wyse
Albany, OR

Our House Antiques
Linda & David Adams
Las Vegas, NV

Glass By Goshe
Ed Goshe
Tiffin, OH

L & B Glass
Larry & Brooke Newton
Longwood, FL

Old Yeller Barn
Joyce Nicoletti
Goodman, MO

Lisa & Tom Underwood
Topeka. KS

Yellow Brick Road Antiques
Jean Will
Leavenworth, KS

Pretty Things
Tim & Lei Cantrell
Springfield, MO

Freeman & Jeannie Moore
Flower Mound, TX
Hotels & RV Parks
If you have not made your hotel reservation, I would encourage you to do so as soon as possible, in order to get the special NDGA rate. The Holiday Inn is our host hotel and is located just 2 miles from the KCI Airport. The Holiday Inn offers free shuttle to and from the airport and also offers free shuttle within a 5 mile radius, enabling you to shop and dine. The Holiday Inn is offering a special NDGA rate of $59.00 per night for a king and $69.00 for a double queen. The central number of the hotel to make your reservation is (816) 801-8400.
Additional hotels nearby are: Four Points by Sheraton, (816) 464-2345, Hilton Kansas City Airport (816) 891-8900, Fairfield Inn by Marriott, (816) 464-2424.

If you need an RV park, there are three within a very short distance of the hotel:
Basswood,
15880 Interurban Road,
Platte City, Mo.
(816) 858-5556
Linden Mobil Court,
400 N.E. 76th Terrace,
Kansas City, Mo.
(816) 436-0860
World's of Fun Park,
(816) 454-4545.
OTHER CONVENTION ACTIVITIES
For those coming to the convention and feel like the local activities are not enough and the show/sale isn't going to be enough to take care of your glass "sickness", consider the following.
Places of interest and entertainment venues in the area.

Worlds and Oceans of Fun, (816) 454-454;
Schlitterbahn, (913) 312-3110, (world's largest water slide);
World War I Museum, (816) 888-8100;
Union Station, (816 )460-2020;
Nelson-Atkins Museum of Art, (816) 751-1278;
Kansas City Zoo, (816) 285-3689;
Historic Westport, (816) 531-4370;
Downtown Power & Light District (entertainment center) (816) 842-1045;
Arabian Steamboat Museum (816) 461-1856 (This is a wonderful experience for all ages);
Crown Center, Kansas City is the home of Hallmark cards and this is a family place for entertainment, dining and shopping, located just south of downtown Kansas City;
Country Club Plaza (this is also a great location for fun, entertainment and dining places and is the location of the fountain that is shown on the NDGA Show card;
Truman Library and Home, (816) 268-8200,
Jesse James Farm & Museum (816) 736-8500;
Historic Weston with tobacco farms and its development (very near the KCI Expo Center);
Argosy Casino, (816) 746-3100;
Kansas City Chief's Stadium (next to KC Royals);
Downtown/Crossroads Arts District.

You should also check out the following website: VisitKC.com.

Visit the Famous Gates Barbecue establishment, which is just one of many BBQ places in Kansas City. Take in a Kansas City Royals baseball game. They will be at home playing July 6th thru 9th, playing Tampa Bay Rays, July 10th thru 12th, Toronto BlueJays, These are all evening games, beginning at 7:05, except for the 9th which is a day game at 1:10 pm.

The following is a partial list of the area Antique Malls:
WD Pickers, Platte City, Mo. I-29, Exit 20, (816) 858-3100;
Enchanted Frog, I-35, Exit 40, (816) 740-6933;
Jesse James, Exit 53, I-29, (816) 232-0099;
Brass Armadillo, 1450 Golfview Dr., Grain Valley, Mo.; (816) 847-5260;
River Market Antiques, 115 W. 5th St., K.C., Mo., (816) 221-0220;
Brown's Emporium, 13720 E. 40 Highway, Independence, Mo., (816) 356-0040;
Silver Fox, Odessa, Mo., (816) 230-5600;
Mission Road Antique Mall, 4101 W. 83rd St., Prairie Village, Ks., (913) 341-7577;
Leavenworth Antiques, 505 Delaware, Leavenworth, Ks., (913) 758-0193,.

This is to name just a few, there are many more. These are within the area of the Convention location.