NDGA Convention 2002 - Kansas City, MO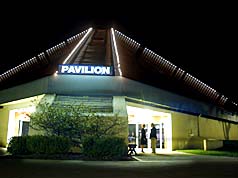 The 28th Annual NDGA Convention and Glass Show was held July 18-20 and was sponsored by the "Heart of America Glass Collectors, Inc.", a very active organization in the Kansas City area. The Convention Chairperson was Bev Harris. The 2002 NDGA Convention varied from the familiar format, for this one time only: the Convention was held on Friday and Saturday, with the Membership Annual Meeting and Show Preview on Thursday evening.
The location of the Convention for 2002 was the John Knox Pavilion in Lee's Summit, MO. Lee's Summit is located south and east of Kansas City, MO, and is considered a suburb of Kansas City. The weather was quite warm (and humid), but the Pavilion was nicely air-conditioned and everyone enjoyed the beautiful glass on display and for sale.
Seminars and Speakers
There were four seminars presented in Lee's Summit, two on Saturday and two on Sunday. Here are the Seminar speakers and their topics:
Jim Rose - Cambridge Glass
Bob and Myrna Garrison - Imperial Milk Glass Slag and Opaques
Bob and Myrna Garrison - Imperial Candlewick, Little Known Facts
Kelly O'Kane - Tiffin, Rare and Decorated
Glass and Pottery Displays
One of the highlights of the NDGA Convention is the fantastic array of displays. These are put on by NDGA members who share their own personal collections with all of us. We thank all of the folks who displayed their collections this year.
You can click on the "thumbnail" picture to see a larger version, then use your browser's "BACK" button to return to this page. The background on all of the pictures is not the greatest - stacks of chairs don't lend themselves well as photo backgrounds. Still, the displays were awesome and you will enjoy the pictures of the wonderful glass and pottery that was shared with all of us.
Member Names
Display Title
Thumbnail
Jim and Pam Rose
Blue Caprice by Cambridge

Jim and Franki Jensen
Morgantown

Ed Pailer and Allen Kleinbeck
Hall Pottery - Various and Rare

Ed Pailer and Allen Kleinbeck
Roseville - Dahlrose

Bob and Vivian Perry
Redwing Random Harvest

Gene and Helen Allen
Farberware

Brad Allen and Gene Cooper
Metlox Happy Time

Brad Allen and Gene Cooper
Roseville Raymor

Bill and Joan Mattox
Fostoria Seville

Harold and Doris Mayes
Westmoreland Dresser Sets

Jim and Bev Harris
Imperial Cracker and Milk Jars

Jim and Bev Harris
Imperial Boudoir items

Bill and Pat Rose
Akro Agate Children's sets

Gene and Marsha Loveland
Franciscan Twilight Rose

Gene and Marsha Loveland
Fenton Lincoln Inn

Tom Limback
Fenton Peach Crest

Harold and Jackie Clevenger
Tom and Jerry Sets

Gene and Maryann Welter
Pennsbury Pottery

Gene and Maryann Welter
Westmoreland English Hobnail

Dewayne and Delores Kuhnert
Swanky Swigs

Dewayne and Dolores Kuhnert
Franciscan Duet

Todd Harris
Imperial Glass Animals

Bob and Myrna Garrison
Imperial Milk Glass

Participating Dealers
Here is the list of the dealers who brought their merchandise to Kansas City. These folks come from all over the country, bringing their best glass for your selection. Many of these folks have been doing the NDGA show for years and years, and yet there was a nice mix of "new" dealers, too.
Business Name
Name(s)
Home Town
Esther's Glass & Collectables
Esther Mitchell
Little Rock, AR
B. Canine
Byron & Barbara Canine
Anderson, IN
Neighbor's Antiques
Arlyn & Len Ols
Cleveland, OH
Max Miller Antiques
Max Miller
Houston, TX
Our House Antiques
Linda & David Adams
Las Vegas, NV
Iron Kettle
Bob & Betty Conner
Augusta, KS
Joyce Nichols
Joyce & Jack Nichols
Ft Walton Beach, FL
Over The Rainbow Antiques
Thomas Herr
Duncanville, TX
Art & Shirley Moore
Shirley & Art Moore
Tulsa, OK
The Glass Chalet
William Walker & Sandra Bridwell
Oradell, NJ
Kent Washburn Antiques
Kent Washburn
San Antonio, TX
No Horse Antiques
Sandi & Dennis Boone
Aledo, IL
Line Camp Antiques
Jo & Bill Curtis
Amarillo, TX
Past Reflections
Melanie & Ron Hildreth
West Covina, CA
Penny Renner
Penny Renner
Crystal River, FL
Dr Bob's Antiques
Judy & Bob Schmidgall
Arkadelphia, AR
D.S. Antiques
Jane & John Schleinzer
Aurora, IL
Second Time Around
Donna & Jay Upham
Xenia, OH
Betty & Dale's Antiques
Betty & Dale Bass
Caney, KS
John & Judy's
John & Judy Bine
St. Charles, IL
Rae Patrick Enterprises
C Patrice & Sharon C. Ervin
Sycamore, IL
L & M Glassware
Leegh & Michael Wyse
Corvallis, OR
Becki's Dish Palace
Becki Ray
Seattle, WA
A Touch Of Glass
Larry & Barb Taylor
Las Vegas, NV
Helen Allen
Helen & Gene Allen
Overland Park, KS
Kitschy Cat Collectibles
James & Rose Curnutt
Western Springs, IL
Lots Of Strange Things
Jim & Margaret Davis
Springfield, IL
Mother Drucker's
Penny & Elliott Drucker
Irvine, CA
McEwen's Extras
Carol & Julian McEwen
Wichita KS
Rose Garden Collectibles
Jean & Lee Spalding
Wichita, KS
Happiness Is
Buddy & Kathy Stultz
Glen Allen, VA
The Walnut Mercantile Co.
Larry Cook
Walnut, IA